OK this is not specific to gtir but to many cars and have to say that I'm very surprised by the results.
Basically I carried out a test on our dyno on 2 Renault clio 182s.
Have got 2 cars  one I use on track and another  which is all pretty much stock other than the induction kit fitted which is an apexi cylindrical filter and 17" rims as opposed to the 16" the car normally uses.
The other car which I use on track has the original air box fitted and runs 16" rims but other than that the cars are identical.
So I set about testing them both and as i already knew the track car had more power and Torque over the runs previously done.
I then removed the stock air box from the track car (which has a k&n panel filter) and replaced it with the free breathing apexi filter from the other car and surprisingly it gained around 12 lbft torque and almost 8bhp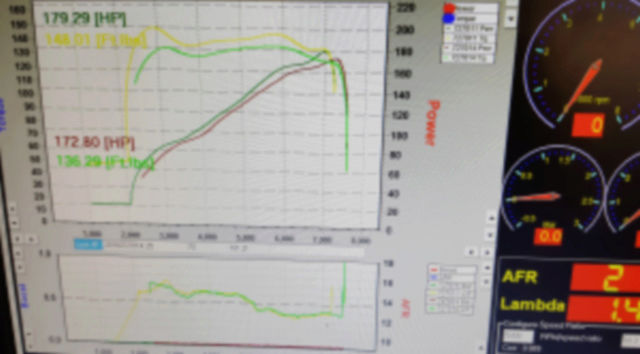 However although the non track clio was down on power ..........Test was at 7000rpm (I ran with both cars so conditions were the same) the lower powered car however was actually 8mph faster than the track clio, the only other differing factor was the rim size, track car was running 16s and other car 17s.
So in theory over a set time /  motion such as a 1/4 mile drag race the lower powered car with the bigger rims would actually win!
So next week I'm going to prove my theory and put the 17" rims on the track clio to see what the given speed is on the track car with bigger rims fitted at same rpm, in theory the car should be quicker still.
Assuming im correct then that blows all the myths out the water with regard to car speed acceleration on the smaller rims, as a car would be faster over a set time - motion with larger rims fitted which also means less effort is required from engine and transmission so in theory would be less of a strain on the gtir gearbox 'Pete'  
The only time the smaller rims would be better would be over short ground coverage, what that equates to in terms of metres i just dont know but it shows that on initial launch the smaller wheeled car would get away quicker but once rolling the larger wheeled car would catch it very quickly given same rpm/gear ratios used on both cars .
Test also proves that a cylinder type induction kit shielded from hot under bonnet temps is much better than an enclosed airbox with panel type filter it also allows engine to breathe better so rpm increases by around 400 at top end of scale as can be seen in the pic.
I'm surprised tbh by both these findings, but live & learn i guess!


Last edited by GTI-R US on 28th July 2016, 11:47 am; edited 2 times in total